Latest episode: 2015
Comeback Trail, Part 29:  Carlo Wins World Cup, Classic Table Hockey Bigger and Better than Ever
See all episodes below
---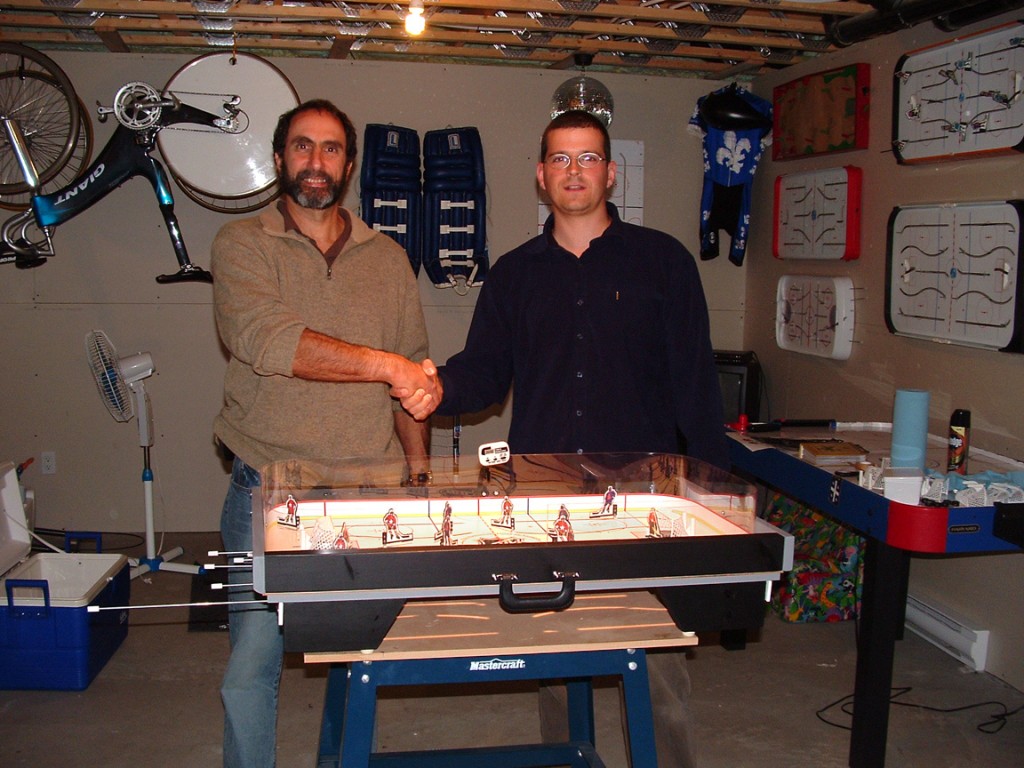 As the table hockey revival built up steam, established leagues and tournaments began to join forces. In August 2006, Lou met Martin Labelle in Sherbrooke, and acquired a hand-crafted Labelle-Coleco. This propelled Lou into organized table hockey, for the first time since 1983.
Martin hand-crafted only 56 Labelle-Coleco boards, enough to fuel the classic table hockey revival. Until his retirement in 2011, Martin was the dominant force in the Sherbrooke Table Hockey  League, and was founding president of Hockey Sur Table Quebec.
Left: Lou meets Martin, 2006.
---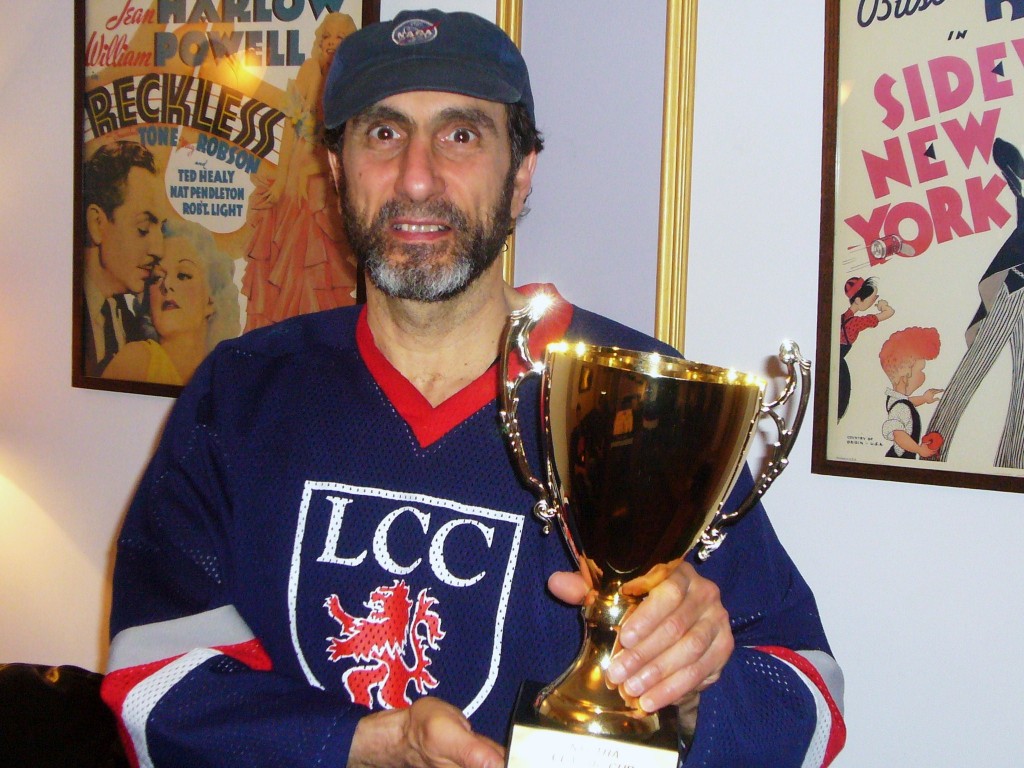 Lou joined John Power's New York City Table Hockey Association (NYCTHA). Lou was NYCTHA league and playoff champion in 2007, 2008, 2009.  Read John Power's story: "My Day with Table Hockey Legend Lou Marinoff."
Lou also played four years in a row in A.J. Sarma's Las Vegas Classic, and making the finals each year. In 2007 he lost to Dave Kraehling in 7 games. In 2008 Lou defeated Bernie Kunzler, and repeated as champ in 2009, defeating Robert Meers.  In 2010 he lost a 7-game thriller to Burt Brassard, coming back from a 0-3 deficit to force game 7.
Left: Lou as NYCTHA champ.
---
Lou played in Johnny Good Guy, Pete Moulton's annual Brampton tournament, six times, 2007-12. He finished 3rd in 2011 and won the title in 2012, at age 60.
Left: Lou wins in Las Vegas, 2008 and 2009.
Right: Lou wins Johnny Good Guy, 2012
---
---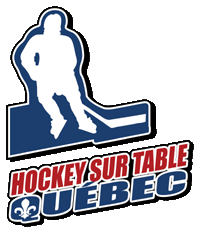 But Lou's comeback trail has led most often to Quebec, his native province, home to the world's greatest Coleco champions and toughest tournaments.  There, and in affiliated tournaments in Chicago, Detroit, Toronto and New York,  Lou has battled the best: Carlo and Gino Bossio, Martin Labelle, Pat Cote, Dany Leclerc, Sam and Alex Anoussis, among many other talents. Lou clawed his way into the top 5 in 2013-14, finishing behind Carlo, Gino, Pat and Sam. Julian hung on to 10th, making this the first ever father-son top-10 finish.  See stats here.
This league of tournaments, founded in 2006 by Denis Begin, Carlo Bossio, Martin Labelle, was called
Hockey Sur Table Quebec (HTQ). In 2014, HTQ was reborn as the National Table Hockey League (NTHL). Since 2006, Lou has chronicled his HTQ and other table hockey encounters in a series called the Comeback Trail.
These episodes of Lou's comeback trail showcase the great talents of contemporary Classic table hockey. The undisputed current champion, for 7 years and counting, is "King" Carlo Bossio. Carlo is the greatest Classic champion of all time. His astounding feats are chronicled below … Visit the NTHL. 
---
---
 Read all episodes of Lou's comeback trail here:
2015
Comeback Trail, Part 29:  Carlo Wins World Cup, Classic Table Hockey Bigger and Better than Ever
2014
Comeback Trail, Part 28: Carlo Leads World Cup Race at Mid-Season
— Sam Wishes Deuces Were Wild
2013
Comeback Trail, Part 27: Carlo Clinches Sixth Straight Quebec Cup
— Sam and Alex Anoussis Share Spotlight
2012
Comeback Trail, Part 26: Sweet Sixty at JGG
— Lou Marinoff Wins 2012 Title
Comeback Trail, Part 25: Toronto TH Tourney Draws 100+ Players
— Wall Street Journal Covers Table Hockey's "Comeback"
Comeback Trail, Part 24: Carlo Captures Quintuple Quebec Cup
— Five in a Row for the King of Classic Table Hockey
2011
Comeback Trail, Part 23: Carlo Claims Quadruple Quebec Crown
— Four in a Row for the Table Hockey King
Comeback Trail, Part 22 Beedham Dynasty Dawns at 38th Annual JGG
— Table Hockey Torch Passes to Good Guy Jr.
Comeback Trail, Part 21: Play It Again, Sam
— Anoussis "Arrives" in Ajax, Quebec Quintet Crushes Competition
2010
Comeback Trail, Part 20: Bossios Invincible in 2009-10
— Gino and Carlo Sweep HTQ; Carlo Captures 3rd Consecutive Quebec Cup
2009
Comeback Trail, Part 19: King Carlo Achieves Quebec Cup Encore
— Labelle Bids Farewell to Table Hockey
Comeback Trail, Part 18: Bossio Rebounds in Gatineau
— Level with Labelle in Quebec Cup Quest
Comeback Trail, Part 17: Labelle Dominates Drummondville
— One win away from Quebec Cup III
Comeback Trail, Part 16: Lady Luck Smiles Again
— repeat Classic Cup victory in Vegas
2008
Comeback Trail, Part 15: Lou Marinoff Repeats as NYCTHA Classic Champ
— full story by John Power
Comeback Trail, Part 14: Y3K at JGG 2008
— Kraehling, Kloosterman, Kunzler prevail
Comeback Trail, Part 13: Carlo Bossio Weathers Gatineau Tempest
— And he captures the Quebec Cup
Comeback Trail, Part 12: Lady Luck Smiles on Lou in Vegas
— Yours truly captures Coleco Classic Cup III
2007
Comeback Trail, Part 11: Carlo Bossio: Hat-Trick in Sherbrooke
— Gino Bossio Grabs Quebec Cup Lead / Yours truly makes top-10 for 2007
Comeback Trail, Part 10: Caveat
— King Carlo Reigns Supreme in Montreal / Cote Captures Coupe du Quebec
Comeback Trail, Part 9: Roller Coaster from Chicago to New York
— Cote Wins Windy City / Labelle Bites Big Apple
Comeback Trail, Part 8: Top-10 Finish at Quebec Open
— Patrick Cote Triumphs; My Mission Accomplished
Comeback Trail, Part 7: A Tale of Two Trophies, 1983-2007
— NYCTHA Classic Division Playoffs, Brooklyn, NY
Comeback Trail, Part 6: Johnny Goodguy
— 34th Annual Tournament in Brampton
Comeback Trail, Part 5: Close Encounters of the Third Kind
— Las Vegas Coleco Classic
2006
Comeback Trail, Part 4: Table Hockey Fest dans les Cantons de l'est
— The Sherbooke Tournament and Aftermath Chez Labelle
Comeback Trail, Part 3: The Lions' Den
–Preparing for Sherbrooke Chez Bossio
Comeback Trail, Part 2: Montreal
— Ups and Downs of Cracking the Canadian Ranks
Comeback Trail, Part 1: Table Hockey in the 21st Century
— Reflections by a 20th century champ on the comeback trail.
---