"The sense of intimacy is present from the very first note … A lovely collection, and a most rewarding one."
~ Colin Clarke, Fanfare Magazine        read full review here

"Marinoff is a perceptive musician who plays with stylistic ease … I enjoyed this disc immensely"
~ Maria Nockin, Fanfare Magazine   read full review here
"His sense of style is splendid … a man of taste, warmth, and perception."
~ Dave Saemann, Fanfare Magazine    read full review here

From Bach to Buddhism via Table Hockey
~ Interview and Review in Fanfare Magazine

Sheet Music Available Here  (Denburg's arrangements of J.S. Bach's Sinfonia #3, #4, #5, Inventio #14, and Mascagni's themes)
---
Classical Journey

performed by Lou Marinoff, on unaccompanied guitar
1. J.S. Bach: Prelude, First Cello Suite (Montreal, 1976) 2:20
2. J.S. Bach: Bourrée, Partita in B Minor (Monroe, NY, 2006) 3:40
3-6. J.S. Bach, Sinfonia #3 • Sinfonia #5 • Inventio #14 • Sinfonia#4
(Monroe, NY, 2006-09) 1:40 • 2:59 • 2:04 • 3:07
7-8. Gaspar Sanz: Pavane • Canarios (CCNY Sonic Arts Center, NY, 1996) 3:30 • 2:03
9-10. Matteo Carcassi: Study #3, A major • Study #7, A minor
(CCNY Sonic Arts Center, NY, 1996) 2:17 • 1:33
11-12. Fernando Sor: Fantasy, Opus 7 • Rondo, Grand Sonata, Opus 22
(Montreal, 1976) 6:19 • 4:39
13-15. Antonio Lauro: Vals Criollo #1 • Vals Venezolano #2 • Vals Criollo #3
(Vals #1 & Vals #3, CCNY Sonic Arts Center, NY, 1996) 1:39 • 1:50
(Vals #2, live, Waterloo Chamber Music Society, Ontario, 2000) 1:34
16. Federico Moreno-Torroba: Torija (Montreal, 1976) 2:39
17. Pietro Mascagni, arranged Moshe Denburg: Sicilian Dreams
(live, Waterloo Chamber Music Society, Ontario, 2000) 7:04
18. Leo Brouwer: Elogio de la Danza (homage to Stravinsky) i. Lento ii. Obstinato
(live, Waterloo Chamber Music Society, Ontario, 2000) 5:36
Sheet Music Available Here  (Denburg's arrangements of J.S. Bach's Sinfonia #3, #4, #5, Inventio #14, and Mascagni's themes)
---
~ J.S. Bach's Sinfonia & Inventio transcribed for solo guitar by Moshe Denburg © 2004
~ Sicilian Dreams based on Pietro Mascagni's Intermezzo from Cavalleria Rusticana,
& Barcarolle from Silvano, arranged for solo guitar by Moshe Denburg © 1996
~ Pietro Mascagni's Intermezzo & Barcarolle courtesy of S.I.A.E. Direzione Generale
~ Antonio Lauro's Waltzes courtesy of Peermusic III Ltd
~ Federico Moreno-Torroba's Torija courtesy of Vander Music Obo Brambila Editora
~ Leo Brouwer's Elogio de la Danza courtesy of Schott Music
~ All selections digitally remastered by Phil Bulla, Platinum Productions, NY, 2015
~ Produced by Lou Marinoff © 2015
Sheet Music Available Here   (Denburg's arrangements of J.S. Bach's Sinfonia #3, #4, #5, Inventio #14, and Mascagni's themes)
---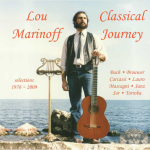 Lou Marinoff: Classical Journey
Lou's classical journey spans four decades of his lifetime, and four centuries of music. Lou began playing guitar in Montreal, Canada, in the late 1960s. After learning flamenco briefly with Miguel Garcia, he began studying classical guitar, at age nineteen, with Florence Brown. Lou then attended summer school at Jeunesses Musicales Canada, at the Orford Arts Center, for several years in the 1970s. He studied there, and in Montreal, with Peter McCutcheon. In the early 1990s Lou studied with Harold Micay in Vancouver, and ultimately in that decade with David Leisner in New York.In conjunction with these outstanding guitarists and teachers, Lou has participated and played in master classes with Alexandre Lagoya, Leo Brouwer, and Scott Tennant, among other virtuosi. Lou has performed at the Quai des Arts in Carleton, Quebec; at the Waterloo Chamber Music Society in Waterloo, Ontario; and in The Table Hockey Movie (Triad Films, 2004), among other venues.
In 1996 Lou commissioned maestro Moshe Denburg — composer, founder of the Vancouver Inter-Cultural Orchestra, and long-time friend — to arrange Pietro Mascagni's Intermezzo from Cavalleria Rusticana and Barcarolle from Silvano for solo guitar. These operatic themes had earlier been adapted by Martin Scorsese in his classic film Raging Bull. Denburg's arrangement, which he entitled "Sicilian Dreams," is premiered on this CD. Early in this century, Lou commissioned Moshe to transcribe some of J.S. Bach's delightful two- and three-part inventions (Sinfonia and Inventio) from keyboard to solo guitar. Four of Denburg's transcriptions are premiered on this CD, and are among the highlights of Lou's classical journey to date.

---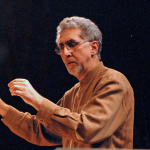 Moshe Denburg (b. 1949) grew up in Montreal, Canada, in a religious Jewish family. His musical career has spanned over 4 decades and his accomplishments encompass a wide range of musical activities, including Composition, Performance, Music Education, and Artistic Direction. He is the founder of the Vancouver Inter-Cultural Orchestra (VICO) and was the driving force behind the ensemble's growth from 2001-2014.  He has studied music extensively, both formally and informally, and for the past several decades has been engaged in exploring the musical resources of the non-Western world, creating music that challenges musicians of differing disciplines to work together across oral/written cultural divides, and to find a common musical aesthetic. He has traveled worldwide, living and studying in the United States, Israel, India and Japan.  From 1986 to 1990 he studied composition with John Celona at the University of Victoria. He has written a large number of works for a variety of instruments from non-Western cultures (East Indian, Chinese, Japanese, Arabic and more), which have been performed and broadcast at festivals and on the radio both in Canada and abroad. He is the recipient of numerous grants grants and commissions, and was a composer-in-residence at the Banff Centre for the Arts two years running (1991 and 1992). He also has a longstanding commitment to Jewish Music education and performance, writing for, performing, and recording with Tzimmes, a Jewish music ensemble he established 25 years ago. He is an associate composer of the Canadian Music Centre.
---