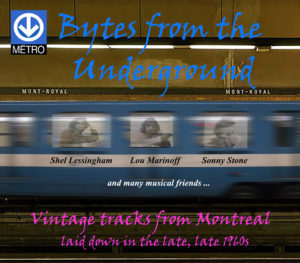 Bytes from the Underground
Vintage tracks from Montreal
Laid down in the late, late 1960s
featuring Lou Marinoff & many musical friends
Listen to excerpts and get the CD here
Read the album notes and back stories below↓
Click on any image to enlarge it.
---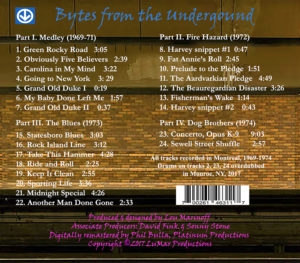 Part I: Medley (1969-71)
Part II: Fire Hazard (1972)
Part III: The Blues (1973)
Part IV: Dog Brothers (1974)
Produced & designed by Lou Marinoff
Associate Producers: David Fink & Sonny Stone
Digitally remastered by Phil Bulla, Platinum Productions
Copyright © 2017 LuMar Productions
Listen to excerpts and get the CD here
---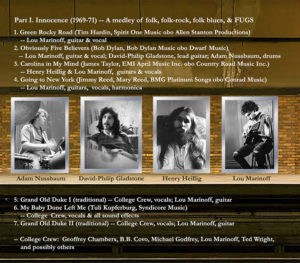 Part One (1969-71) is a medley of folk and folk-rock, with the theme of innocence. It represents the earliest recordings in the compilation, and most of the artists were teen-agers at this stage. Lou Marinoff plays acoustic guitar on the first four tracks—a ringing Martin D-18. The influences of Tim Hardin, Bob Dylan, James Taylor, and Siegal-Schwall are evident. Lou is accompanied by David-Philip Gladstone on lead guitar (a Gibson Firebird) in Obviously Five Believers, while Adam Nussbaum artfully dubbed the drums in 2017. Henry Heillig harmonizes delightfully with Lou in Carolina in My Mind, both guitaristically (on his Martin O-16 New Yorker) as well as vocally. College Crew—a group of friends from the college scene—embark on a risqué rendition of the My Baby Done Left Me, overdubbing inspired sound effects in the process. The FUGS song is bracketed by a traditional English nursery rhyme, Grand Old Duke. Part One was recorded in various private homes in N.D.G., Snowdon, and Westmount. Innocence was innocent, while it lasted. Listen to excerpts and get the CD here
---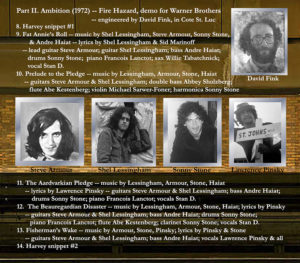 Part Two (1972) represents ambition. It's an astounding demo made for Warner Brothers, by a nucleus of driven young talents from the predominantly Jewish suburb of Cote St. Luc. The main creators and players were Steve Armour (lead guitar), Andre Haiat (bass), Shel Lessingham (acoustic guitar), Sonny Stone (drums and harmonica), and Lawrence Pinsky (lyrics). The band itself was called Fire Hazard, but only by happenstance. They were caught smoking one day during rehearsal in Sonny's garage, by his incurably phobic Jewish mother, who lived in constant terror of her house burning down. She exclaimed "This isn't a band; it's a fire hazard!" and the name stuck. It was certainly appropriate, as the players themselves were red-hot. The nucleus was joined by hand-picked specialists on various tracks, including Abe Kestenberg on flute, Francois Lanctot on piano, and Abbey Sholzberg on double-bass. The rock vocals were belted out by Stan D., a Liverpudlian aircraft mechanic who was moonlighting in a country and western band called Pat Parker and the Outcasts, in which Lou was playing lead guitar. Lou had become acquainted with the boys in Fire Hazard through his brother Sid, who was a close friend of Shel Lessingham. The back story of this demo really belongs to Shel: born Sheldon Richstone, of Richstone Bakery renown, Shel's godfather was Phil Rose, then vice president of Warner Brothers and its prestigious Warner-Elektra-Atlantic (W.E.A.) record label. Shel had aspired to rock stardom since childhood, and Phil had agreed to listen to the demo, so everyone involved naturally saw this as their best shot to date, and they certainly came up with the goods. The demo tape itself was masterfully and unbelievably engineered on a 2-track tape deck by David Fink, another denizen of Cote St Luc and close friend of Shel and Sid. Lou had no overt voice in Fire Hazard, but was present for many of the recording sessions. Shel borrowed his Martin D-18 for the acoustic guitar tracks. In the end, Phil Rose elected not to help his Godson. Maybe W.E.A. had exceeded its nepotism quota for that year. Who knows? So the players moved on to other, and more successful (if less well-connected) ventures. But this demo stands as a remarkable milestone, a unique musical product of its place and time, illustrating just how well these young suburban musicians had absorbed and re-synthesized jazz-rock fusion, along with an improbable touch of Newfoundland fishing culture. Listen to excerpts and get the CD here
---
Part Three (1973) is pure folk blues: a live recording at Dawson College, with Sonny and Lou performing vintage delta repertoire. Sonny Stone is a multi-talented musician—drums, sax, clarinet, and harmonica number among his instruments—and a natural showman. Here he does credit to the style of Sonny Terry, with the usual assortment of Marine Band harps. Lou has by now matured as an acoustic bluesman; the influences of Brownie McGhee and Dave van Ronk are particularly evident. Lou's Martin D-18 guitar has developed a mature tone as well. Still in their early twenties, Sonny and Lou have both spent countless hours absorbing this idiom (and its electric urban counterpart) from records, and from live shows at Montreal's iconic clubs: The Yellow Door, Gary Eisencraft's New Penelope, and Norman Silver's Esquire Show Bar. This performance at Dawson College is not an "act"; Sonny and Lou were breathing music 24/7, and living hand-to-mouth at this point. Lou had just recorded his first album of original compositions (Marinoff Ex Machina) with several of the musicians from Fire Hazard: Sonny Stone on drums, Steve Armour on lead guitar, Abbey Sholzberg on bass, and Steven Corber (another Cote St. Luc talent) on keyboards. Lou was also sharing an apartment with Shel Lessingham, where Part Four of this CD was incubating. On the day of this live recording, Sonny and Lou met for "breakfast" at 9:00 a.m., downed a fifth of rye whiskey, hopped a bus to Dawson College, and entertained an appreciative audience with their renditions of these folk blues classics. Listen to excerpts and get the CD here
---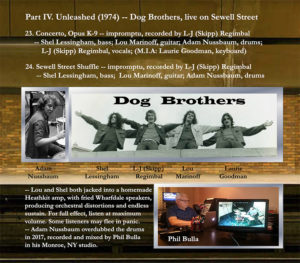 Part Four (1974) is electric rock-blues unleashed, in the form of a high-energy trio called Dog Brothers. The band was formed by fate or coincidence, as you prefer. Shel was still trying to sell Fire Hazard to Phil Rose, while Lou's executive producer and agent B.B. Covo was trying to sell Marinoff Ex Machina to Canadian record companies. Meanwhile Shel and Lou were sharing a basement apartment in Snowdon, each playing odd gigs to barely make the rent, and jamming day and night—Shel on a bass and Lou on a Les Paul. They encountered L-J (Skipp) Regimbal, a Ginger Baker-like drummer, moonlighting with a country and western band called Helen and the Honeycombs. Lou, Shel, and Skipp jammed one afternoon in a deserted nightclub, and their first improvisation lasted two hours. Thus Dog Brothers were born, or whelped. They developed a repertoire of Allman Brothers, Cream, Hendrix, Stones, and original material, adding keyboardist Laurie Goodman for club dates. Attaining dizzying summits of musicality, while plumbing abysmal depths of poverty, their escapades could fill a novel. When Dog Brothers walked down the street, people stopped to stare at them, often with a mixture of fascination and horror. When they boarded a bus, they went immediately and voluntarily to the very back, while all the other passengers hastily crowded toward the front, leaving a vacated "no-man's land" in the middle. In the spring of 1974, a friend invited them to stay rent-free in his vacant house on Sewell Street, just east of the McGill student ghetto. Sewell Street was a miniature working-class neighborhood of dilapidated row-houses, many of whose immigrant occupants barely spoke English. But they immediately adopted Dog Brothers as their very own rock band; they sensed that the presence of these musicians loaned the street a certain je ne sais quoi, and quite possibly some cachet. It was here that the two surviving Dog Brothers fragments—Concerto Opus K-9 and the Sewell Street Shuffle—were recorded. Lou and Shel both jacked into a homemade Heathkit amp, with fried Wharfdale speakers, producing orchestral distortions and endless sustain. For full effect, listen at maximum volume. Some listeners may flee in panic. Adam Nussbaum overdubbed the drums in 2017, recorded and mixed by Phil Bulla in his Monroe, NY studio. Listen to excerpts and get the CD here
---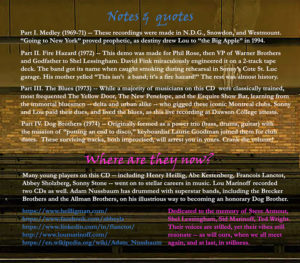 Notes & Quotes / Where Are They Now?
Many young players on this CD — including Henry Heillig, Abe Kestenberg, Francois Lanctot, Abbey Sholzberg, Sonny Stone — went on to stellar careers in music. Lou Marinoff recorded two other CDs as well. Adam Nussbaum has drummed with superstar bands, including the Brecker Brothers and the Allman Brothers, on his illustrious way to becoming an honorary Dog Brother.
https://www.heilligman.com/
https://www.facebook.com/abbeyls
https://www.linkedin.com/in/flanctot/
http://www.loumarinoff.com/music/
https://en.wikipedia.org/wiki/Adam_Nussbaum
Dedicated to the memory of Steve Armour, Shel Lessingham, Sid Marinoff, Ted Wright. Their voices are stilled, yet their vibes still resonate — as will ours, when we all meet again, and at last, in stillness.
---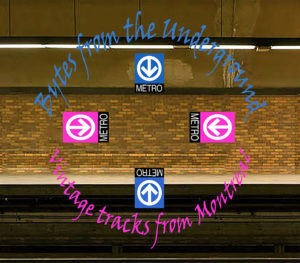 Listen to excerpts and get the CD here
Comes with an 8-panel digipack,
including all the panels shown on this page.