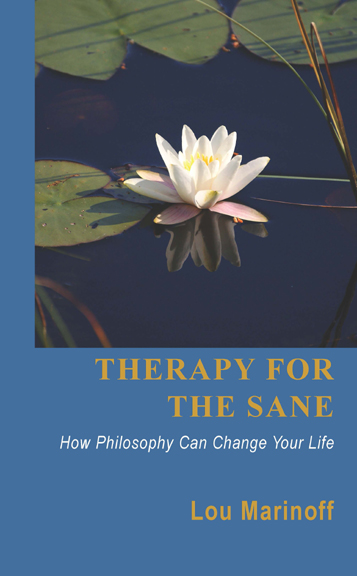 Professor Lou Marinoff's first book, the international bestseller Plato, Not Prozac!, drew on the wisdom of the great philosophers to solve everyday problems, launching a movement that made philosophy useful again. Now, in Therapy for the Sane, he takes the concept to the next level by applying philosophy and its literature to the central questions of modern existence.
Dr. Marinoff uses case studies from his counseling practice to show how the great thinkers can help us define our own philosophy, and thereby reclaim our sense of well-being. How do we know what is right? How can we cope with change? How can we use centuries of wisdom to help us feel at ease in the world? Accessible, entertaining, and essential, Therapy for the Sane presents a shift in perspective that is truly life-changing.
---
"Lou Marinoff is a fellow pilgrim, always ready to tell the story that hasn't been told, always ready to take the risks that haven't been taken."
– Paulo Coelho, author of The Alchemist
"Guiding the reader through the finest work of the human mind, Lou Marinoff shows that problems of relationship health and general dissatisfaction can be solved by realizing some of our latent human potentialities. Problem-solving then becomes an uplifting adventure."
– Laura Huxley, author of This Timeless Moment
"Dr. Lou Marinoff has taken up the original challenge of philosophy – enabling people to live better, more fulfilled and happy lives. It is through courageous dialogue on the 'big questions' – right and wrong, good and evil, life and death – that our inner wisdom is unchained."
– Daisaku Ikeda, President, Soka Gakkai International; author of Choose Life: A Dialogue with Arnold Toynbee
"Lou Marinoff is a lively writer who boldly tramples on the constraints of political correctness. In an age filled with too many glib how-to books, Therapy for the Sane is instead a timely and thought-provoking exposition on how the wisdom of the great philosophers can help those wrestling with the big questions of life. This is therapy for the thoughtful."
– Arlene Getz, Newsweek
"Lou Marinoff is one of the prime movers behind the contemporary phenomenon of philosophical counseling. Reading this book is like being a fly on the wall in his private sessions. In its pages, you'll see the range of pressing questions that bring people to his door, and you'll get a good taste of the interesting philosophical guidance he is able to give them."
– Tom Morris, Ph.D., author of Philosophy for Dummies and The Art of Achievement
"Marinoff's work is bracing, bold, expansive, easy to understand, companiable, and dare I say it, highly therapeutic.  Read it – and you will also gain a wonderful understanding of philosophical approaches to life and death issues."
– Phyllis Chesler, Ph.D, author of Women and Madness, Woman's Inhumanity to Woman, and The New Anti-Semitism.
"Marinoff proves that philosophy is relevant to contemporary life. A must-read, Therapy for the Sane shows that philosophy is as essential to a healthy mind as food and water are to a healthy body."
– William Irwin, Ph.D., editor of The Matrix and Philosophy
"To understand the bewildering new world that is emerging we must learn to ask new questions. Lou Marinoff's Therapy for the Sane is going to become a valuable guide as we grope for the right questions to ask."
– Kishore Mahbubani, author of Can Asians Think?
---